Birthday Speaking Reflections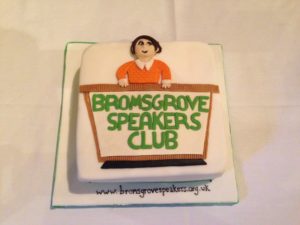 Reflections on Six Years
On Tuesday 7th July 2015 Bromsgrove Speakers Club held its first meeting. Despite several months of planning, there was the odd doubt.
Could it work? Would anyone turn up apart from a handful of known participants? Would it be possible to recruit enough members to make it viable?
Six years on and we're still here, albeit, only on planet Zoom for the last 15 months.
While reflecting on the past six years and thinking about an appropriate blog post, an email arrived. It included a short story that seemed relevant to the challenges faced by some of our members over the six years.
Henneke's Story (In her own words)
"Have you ever spoken at a conference?
In 2014, I spoke at my first marketing conference in London.
I was a little nervous.
Would I be able to keep the audience's attention?
My slot was just before the break. Unlucky. People would be getting tired. Perhaps they'd even sneak out to beat the toilet queues.
Some speakers before me were rambling on. I noticed people in the audience were checking their phones, and fidgeting in their seats.
I had to find a way to re-engage them.
How?
It turned out I could keep people's attention by applying 3 blogging techniques:
I empathized with my listeners at the beginning of the talk, and I promised them how my talk would help them
I focused – I knew exactly what people should remember from my talk
At the end of the talk, I reminded my listeners how implementing my ideas would make their life better
I'm not a gifted speaker.
And I used to think I was too boring to write.
But blogging taught me how to engage an audience – online or on stage.
It has been liberating.
I'm now confident enough to communicate my ideas with flair. I feel connected to readers across the world. People are listening to me. I do not advertise because my blog generates all interest for my business."
Can you empathise with Henneke? Do elements of her story ring a bell with you?
Before taking on a challenge, have you ever wondered, 'Am I good enough?' Perhaps you have suffered imposter syndrome where you question your right to be 'on stage', in whatever form that takes.
You may not think those exact words but that's the general sentiment isn't it?
Are you good enough to go on stage and speak after someone who is well known? Karen ran an events management company based in Cardiff. She had doubts before starting to speak. Understandable in the circumstances.
Karen's Story
Back around 2006/7 there was a major business event at the ExCel London exhibition centre. Lots of businesses had stands and there were many speakers in its various presentation rooms. Some of those speaking were well-known, such as Will Carling, the ex-captain of the England rugby team.
After Carling had spoken, the room emptied. The next speaker scheduled in that room was Karen. When she walked in there were just two or three people in the audience. Unlike Carling, Karen was unknown and she was about to deliver her first event speech. How could her story match that of a famous sportsman?
A few minutes before she was due to start speaking, she phoned her husband for reassurance. He told her to go ahead and deliver her presentation, even if there were few people there to hear it.
And then the room filled rapidly. Possibly because rooms with better known speakers had reached capacity and closed their doors.
Those who heard Karen speak that day were the lucky ones.
During the next half-hour Karen captivated her audience with business advice woven into her story of transforming from failed business to significant success.
Using simple language and painting pictures with words she delivered an unforgettable lesson in business and life in general. A speech, the key points of which, are still memorable 15 or so years on.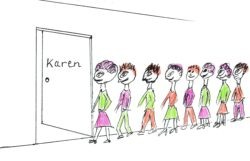 Any resemblance between the people in the image and those entering to hear Karen's speech is almost certainly coincidental!
Learning from Henneke and Karen
Henneke talked about how she'd kept the audience's attention by making her presentation relevant to them; what benefits it would bring them. Karen's story, while being about her, was really about business lessons all could learn from.
There is real skill in turning around a personal story so that the focus is on the listeners rather than the teller. Creating word pictures then helps the key elements to remain imprinted in the minds of the audience.
Despite our doubts and concerns, we can be confident of delivering a meaningful presentation provided that we have prepared well and have rehearsed our words.
And remember that we should always focus on how our audience will benefit from what we have to say.
Bromsgrove Speakers Club at Six
At our meeting on Tuesday (6th July) we will celebrate the sixth birthday of Bromsgrove Speakers Club. It's the second time we've had to celebrate a milestone via Zoom. And hopefully the last.
It's not quite the same without cake and fizz.
It feels like a long time since we started up with help from our friends and neighbours at Stourbridge Speakers Club. Members have come, some have gone and some have stayed.
In 2017, one of our members became national speech champion. We have also won the West Midlands team speaking contest on two occasions.
But far more important than winning contests is the way we've been able to help members to develop their confidence to stand up and speak to an audience.
We were members of the Association of Speakers Clubs (ASC) until we took the difficult decision at the end of 2020 to become independent. We felt that independence would provide greater flexibility to tailor how we operate to serve our members even more effectively.
Since leaving the ASC we have created a speaker development roadmap with a structure of flexible modules, most of which are supported by educational blog articles.
So what of the future?
We will continue to look for ways to provide development opportunities for members that are even more relevant to their real-world needs.
Above all we'll continue to provide a safe space for members to develop their confidence to stand in front of an audience, whatever its size.
Perhaps to have the confidence that Henneke and Karen had to speak at those events a few years ago. (Karen has proved flexible and now become a yoga teacher.)
Why not subscribe to our newsletter to be notified when we post a new blog article?